The International Clearinghouse on Children, Youth and Media has published its Yearbook: New Questions, New Insights, New Approaches with sections on:
Children, Media, Consumption and Health
Media Ethics and Social Responsibility
Communication for Social Change
Media Literacy and Education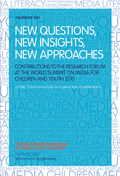 The book contains reworked papers presented at the World Summit on Media for Children and Youth in 2010, Karlstad, Sweden, and can be downloaded in full here (pdf, 2.1 MB).
Florencia Enghel and Thomas Tufte of Ørecomm edited the section on "Communication for Social Change" and are also among the contributors to the yearbook with the article "Citizenship Practices among Youth: Exploring the Role of Communication and Media".
The article by Florencia Enghel and Thomas Tufte is available as a separate file here (pdf, 115 kB).