Researching everyday media cultures and social change in Africa: towards a 'demotic turn'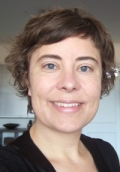 Wendy Willems will speak on the above subject at an Ørecomm Open Seminar on 31 May 2012, 15–17 hrs, at Malmö University (MEDEA, Ö Varvsgatan 11). For logistical reasons, if you will be present you must register, using the form below.
The seminar will also be webcast (in real time) — [now available here].
Abstract: The bulk of academic research on media and communication in Africa has studied media through the lens of media-state relations, hereby adopting liberal democracy as normative ideal and focusing on the potential contribution of African media to development and democratization. I argue that these normative approaches have largely made ordinary people and their divergent uses of a range of media forms invisible. Furthermore, the heavy focus on media-state relations has also ignored the increasingly important role of private capital and the market in the realm of African media. This lecture illustrates the need for a 'demotic turn' (Turner 2010) in African media studies through an interrogation of the way in which everyday mobile media usage in Zambia is both a product and an 'enabler' of reconfigurations of space, mobility and social relations in an age of neoliberalism.
---

Minibio:
Wendy Willems is Senior Lecturer and Head of Department of Media Studies at the University of the Witwatersrand in Johannesburg, South Africa. She holds a PhD in Media and Film Studies from the School of Oriental and African Studies (SOAS), University of London. Previously, she taught Development and Communication at the University of Westminster in London. Her research interests include new media and social change, popular culture and informal politics in Africa (Zambia and Zimbabwe in particular), media anthropology, audiences and citizenship, and media and nationalism. She is one of the founding editors of the Journal of African Media Studies (JAMS). More info on Wendy Willem's website.