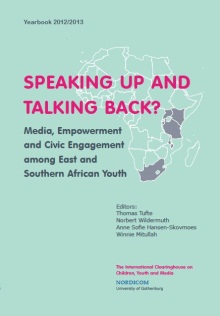 Speaking Up and Talking Back? Media Empowerment and Civic Engagement among East and Southern African Youth – this new book was edited by Ørecomm participants Thomas Tufte, Norbert Wildermuth, Anne Sofie Hansen-Skovmoes, and Winnie Mitullah.
The book questions whether and how young citizens in Africa engage with media and communication technology in a desire to be included in the change processes of their societies.
Youth in particular engaged massively, visibly, loudly and dramatically around demands to be involved and included in their countries' development processes recently in North Africa. This yearbook taps into the less visible and dramatic, but nevertheless highly dynamic and influential, process of media development and the enlargement of youth-driven, deliberative spaces which sub-Saharan Africa is currently experiencing.
The book was published by Nordicom as a yearbook from the International Clearinghouse on Children, Youth and Media. For more information, table of contents and to order, go here.