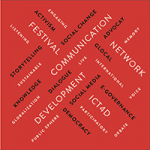 Voice and Matter is the fourth annual Communication for Development conference arranged by Ørecomm, this year merged with Roskilde University's biannual scientific conference, Sunrise.
The conference aims to explore the dynamic relationship – and possible convergence – between voice and matter in the context of communication for development theory and practice.
When? 17-20 September 2014
Where? Roskilde University (Denmark) & Malmö University (Sweden).
Ørecomm invites researchers, students, practitioners, authors, artists and filmmakers to submit abstracts in the following work streams:
New Social Actors and ICT for Development. The technocentric concept of ICT4D raises questions on the power over and use of technology. Who are the new social actors and new social movements? How do they pursue their goals using ICTs? This session invites theoretical and empirical reflections, uncovering emerging perspectives on technology, voice and matter.
ICT4D Without ICT4G? As photos of all-male ICT4D conference panels and technology fairs dominated by men are circulated on social networks, questions about gender issues in ICT4D research and practice are more pressing than ever. This panel invites theoretical reflections and innovative case studies on gender, power and the future of ICT4D.
The Present and Future of Development Journalism
International development journalism is exploring new avenues to connect with different audiences and to communicate social change. This panel highlights new innovative approaches as well as discussing the challenges and limitations in an age where 'everybody is a broadcaster'.
Fiction Matters Recent decades have in many parts of the world brought new genres of fiction to critical acclaim. New authors engage with movement, migration and change in ways that are debated globally. This panel will explore fiction, that in new ways engage with the relation between the social and the global, and between voice and matter.
Histories of Diaspora Nation-states and national mentalities have shaped societies we live in through reductive classifications. New methods now move beyond this logic, allowing for improved understanding of the changing role of the state over time, and for new transcultural encounters. This panel explores methods in approaching the diaspora context in space and time.
Deadlines
Submission of abstracts are accepted until 23 May 2014, oo:oo (CET)
Accepted abstracts will be announced individually by 6 June 2014
Read the full call for abstracts here.
For more information about the conference, look here.
We are looking forward to hearing from you!