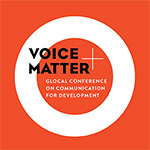 With only 3 weeks to go we are starting the countdown – 17 to 20 September will be interesting days! Don't forget to register before 7 September 2014.
More information about the participatory video workshops is now available on the website. Don't miss a great opportunity to learn more about the use of participatory video in international development. Read more about the workshops and how to sign up for them here.
We are also happy to announce that Marcin de Kaminski, Policy Specialist for Freedom of Expression/ICT at Sida, Sweden, will join our policy panel on "The Role of Media and Communication in the Post 2015 Agenda".
We are also especially happy to see our film-screenings come into place, and to be collaborating with Folkets Bio and Doc Lounge Malmö this year again. The screenings of Gringo Trails (2013) by Pegi Vail and The Stuart Hall Project (2013) by John Akomfrah, will be free and open also to non-participants of the conference. Don't hesitate to bring a friend!
Browse through the programme here, or visit voiceandmatter.net for more information.