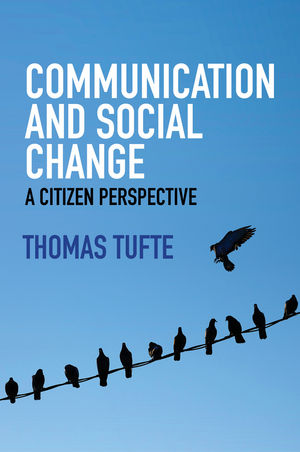 A new book by Thomas Tufte, co-director of Ørecomm, is finally out with a series of book launches taking place on three continents in the upcoming months. Communication and Social Change provides essential insights to students and scholars of media and communications, as well as anyone concerned with the practices and processes that lead to citizenship, democracy and social justice. The book will be launched in Portugal (Coimbra) on 16th of May, in Ghana in June, in Colombia in July and finally in the UK (London) in September 2017. On details please follow news on our Facebook page.
How do the communication practices of governments, NGOs and social movements enhance opportunities for citizen-led change?
In this incisive book, Thomas Tufte makes a call for a fundamental rethinking of what it takes to enable citizens' voices, participation, and power in processes of social change. Drawing on examples ranging from the Indignados movement in Spain to media activists in Brazil, from rural community workers in Malawi to UNICEF's global outreach programs, he presents cutting-edge debates about the role of media and communication in enhancing social change. He offers both new and contested ideas of approaching social change from below, and highlights the need for institutions – governments and civil society organizations alike – to be in sync with their constituencies.
The book includes the following topics:
1. Towards a New Social Thought in Communication and Social Change
2. Changing Contexts and Conceptual Stepping Stones
3. Participation: A Project of Transformation
4. Movements and Media, Communication and Change
5. Cultures of Governance: Enhancing Empowerment and Resilience
6. Communication Movements
7. Invited Spaces: Institutions Communicating for Social Change
8. Towards a New Paradigm and Praxis in Communication and Social Change

Praise for Communication and Social Change
"Tufte brings the significance of social change to life with eclectic and compelling illustrations across global contexts. This will be a classic text in conversations considering the importance of communication and the role of citizens in strategic social change. It is time for the field of communication for social change to take seriously the connections suggested in this book toward a more comprehensive framework. The attention here to social movements and political protests offers a welcome contribution to our scholarship and our practice."
Karin Gwinn Wilkins, University of Texas at Austin
"The ever-relevant Tufte has reinvented himself. With sensitivity he has crafted a coruscating and masterly book. The tight postdisciplinary synthesis solidifies the claim that communication study has such a key role in the reinvention of the humanities. Anyone interested in communication, humanity, democracy and change must read this book!"
Colin Tinei Chasi, University of Johannesburg