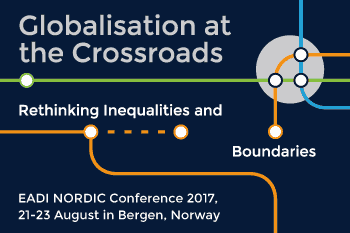 Ørecomm member Flor Enghel highlights the upcoming EADI Nordic Conference "Globalisation at the crossroads" as an opportunity and a challenge.

For development conferences to give greater attention to the role of media and communication in processes of social change, the increased participation of scholars and practitioners with expertise in this field is a must. In August 2017, the European Association of Development Research and Training Institutes (EADI) and the Norwegian Association of Development Research (NFU), in partnership with the University of Bergen, will host the EADI General Conference "Globalisation at the crossroads: Rethinking inequalities and boundaries". The event represents both an opportunity and a challenge.
An opportunity
On the plus side, the conference's Thematic Overview does refer -though briefly- to media and communication in connection with globalisation's shortcomings and contradictions. First, information and communication technologies are mentioned.
"The impacts of new techno­logies, such as information and communication technology, new materials, and miniaturisation are ambi­valent; they are set to expand through new uses of 'big data'; but labour-saving technologies also threaten jobs and wage levels in sectors which were previously considered secure employment."
And second, the voice of disadvantaged groups is touched upon.
"Deep divides have appeared between beneficiaries of new tech­nologies and globalis­ation enjoying rising incomes and affluent life-styles, and poorer income groups with increasingly precarious employment perspectives. These disadvantaged groups either raise their voices and support populist or funda­ment­alist move­ments/political parties or withdraw from exercising meaningful forms of citizenship in their communities."
A challenge
On the minus side, none of the conference's forty six (46) Working Groups and Ad hoc Panels focus specifically on the role of media and communication in development (expressions of interest for both working groups and panels were received and decided upon by the conference organizers in 2016). However, a number of them may welcome proposals that address their themes from a media and communication perspective. The call for papers, to be submitted to either a Working Group or an Ad hoc Panel of your choice, is open until 31 January 2017. See you there?