"The fact that we are standing here today at a Social Media Week is I think indicative of how some of the broader dynamics in research and communication for development are changing."
Ørecomm participant and ComDev researcher Tobias Denskus, starts out his presentation at Danish Design Centre, Copenhagen. And he is right; the development communication work of today faces a multitude of new forms of engagement. Linking empirical research, communication work and social media engagement in meaningful ways is a challenging task for researchers, practitioners and policy-makers. We are only beginning to understand the chances and limitations of 'digital development' work.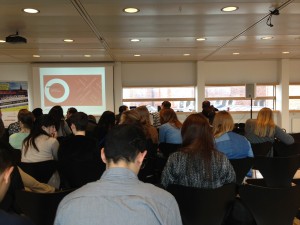 For Ørecomm as a research centre Social Media Week offered a golden opportunity to not only discuss these challenges, but also present our new project GoComm and reach out to possible partners.
How can development researchers be more innovative and attuned to local realities in the Øresund region? How can we encourage dialogue between social science research and social entrepreneurship? These are two of the questions that mark the starting-point of GoComm. The long-term aim is to create an incubator-type space for mutual learning, exchange and advice between development researchers and social entrepreneurs or others who are looking to engage in development initiatives.
"We are embarking on an exciting process, but there's also a lot of uncertainty. We don't want to create new projects, we want to help develop already existing ideas or projects and make them more relevant for developing countries, more sustainable," says Tobias Denskus.
Lene Bull Christiansen, assistant professor in cultural encounters at Roskilde University, presented a snapshot of her current research on Denmark's well-known fundraising campaign 'Danmarks Indsamling'. Her critical analysis of the tools and images that traditional notions of 'development' still convey in mainstream media was an important reminder about the skills that researchers can bring to discussing development initiatives.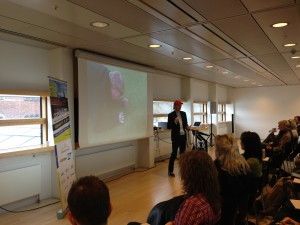 For the same reasons we brought IT entrepreneur Jacob Vahr Svenningsen with us, as an example of how things can be done differently. Jacob runs the small-scale company eGro, which aims to provide sustainable agriculture models in rural emerging markets. This is achieved through low-tech e-learning concepts such as cartoons and video.
How did it go today?
To be honest, I'm mostly used to pitching business ideas to investors. This was something else! It was actually a challenge explaining this journey I have made.
How do you feel about working together with Ørecomm?
I love it! I think it's really important to combine resources and ask ourselves how we make the things we do relevant. How are the money spent best? You can give me valuable advice on this.
Ørecomm is looking much forward to working with other start-ups and social enterprises like eGro. Hopefully we have raised interest and inspired others to take their development initiatives further in collaboration with Ørecomm and future GOComm partners. The project is also open for non-profit and governmental organizations in the region.
Read more about the project here.