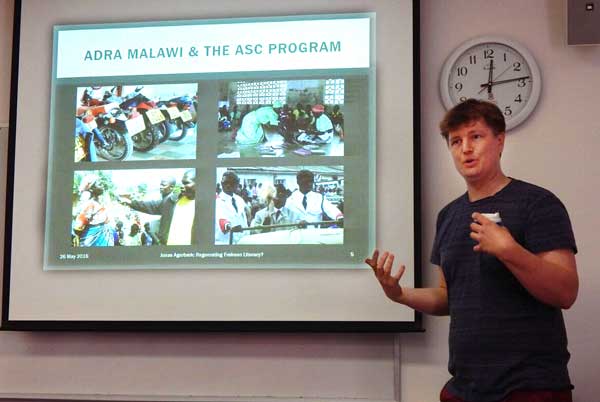 Jonas Agerbæk Jeppesen is back from Australia, where he was a visiting scholar in the Centre for Communication and Social Change. In an interview given at the Centre he talks about his PhD project and perspectives of collaboration between Ørecomm and other partners.
In this interview Jonas tells about inspiration for his research on NGOs and facilitation, experiences gained in Brisbane, where the Centre for Communication and Social Change is located, as well as announces organizational change in Ørecomm itself.
Here is an excerpt from the interview:
"I think it is crucial to increase collaboration in our field.
We are dispersed enough as it is! Writing joint applications for research funding would be a
first step that could create opportunities for colleges to work together, build stronger relations,
and learn from each other. Another key suggestion would be to collaborate more around our graduate
and postgraduate programs, for instance through discussing and sharing curricula and pedagogical
strategies, as well as through encouraging exchange studies abroad."
The full version is available here.
Jonas Agerbæk Jeppesen is a PhD Fellow in Communication and Social Change at Roskilde University, co-financed by Danida through ADRA Denmark, a Copenhagen-based NGO that supports communication for social change initiatives in East Africa. Jonas uses his background in philosophy to theorize and criticize ComDev, and directs his research practice towards action-oriented and qualitative-cum-creative traditions.
Centre for Communication and Social Change at the University of Queensland specializes in the study, research and practical application of communication processes in sustainable development. It is the only specialized centre, and the only academic institute that offers study in this field in Australia. Read more about the Centre here.
Image from CfCSC.