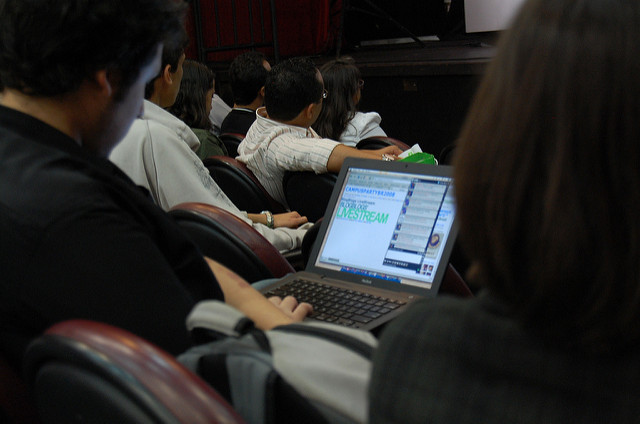 Cannot attend Ørecomm Symposium 2016 yet willing to follow? Don't miss your most awaited presentations and discussions – follow livestream of the programme.
Link for a livestream: www.mah.se/comdev
Ørecomm Symposium 2016 Final Programme
22 September
15.00-15.15
Welcome address: Malmö University's Vice-Chancellor Kerstin Tham + Ørecomm co-directors
Oscar Hemer and Thomas Tufte
15.15 – 15.45
The "refugee crisis" and its multiple implications
Joaquín Arango, Universidad Complutense, Madrid
15.45 – 16.15
The stories we tell: How Diversity is Narrated and Community is Created
in two Copenhagen Neighborhoods
Garbi Schmidt, Roskilde University
16.15 – 16.45
Discussion (Chair: Maja Povrzanović Frykman, Malmö University)
17.00 -17.40
Refugee Migration : Research and activism. Current and up-coming projects
in and around Malmö
Migration media amongst Arabic speaking migrants in Sweden
Laid Bouakaz, Malmö University
(Chair: Anders Høg Hansen, Malmö University)

17.40-18.00
Book launch: Voice & Matter. Communication, Development and the Cultural
Return (eds. Oscar Hemer & Thomas Tufte, Nordicom)
23 September
9.15-10.00
"Niagara session: Communication in the society of difference: between pluralism and dis(engagement)
Silvio Waisbord, George Washington University, Washington DC

10.00-10.45
Discussion (Chair: Oscar Hemer. Discussants: Kerry Bystrom, Bard College, Berlin; Thomas Tufte, University of Leicester)
10.45-11.15
Coffee
11.15-12.00
UNICEF's humanitarian programming in Europe. A communication perspective
Rafael Obregón, UNICEF (via link from Pakistan)
(Chair: Thomas Tufte. Discussant: Norbert Wildermuth, Roskilde University)
12.00-13.00
Lunch
13.00 -13.45
Humanitarian Technologies. From ideals of participation to practices of governance in
emergencies and disaster recovery
Mirca Madianou, Goldsmiths' College, London
13.45 – 14.05
Discussion (Chair: Tobias Denskus, Malmö University. Discussant: Lisa Ann Richey, Roskilde University)

14.15 – 16.00
Parallel paper sessions (including coffee, 15.00-15.15).
A (COE11) Paper session (chair: Jonas Agerbæk Jeppesen, Roskilde University)
Liberal Media Intervention in Post-War Settings: Insights from the Epistemologies of the South. Sofia José Santos and Teresa Almeida Cravo, University of Coimbra
"News-you-can-use": The role of dialogue in providing vital information to refugees in Europe. Victoria Jack, Internews
The Refugee Crisis, Political Opportunities & Threats and Transnational Solidarity Organizations in Greece and Denmark. Maria Kousis, Hans-Jörg Trenz, Angelos Loukakis, Kostas Kanellopoulos, University of Crete, and Deniz Neriman Duru, University of Copenhagen
An analytics of civic agency and social media – the case of refugee volunteering. Julie Uldam and Anne Kaun, Roskilde University
                B (K3 Studio, NIC0541, 5th floor) Paper session (chair: Erliza López Pedersen)
The mediation of waiting: a case study on the experience of transit among Iraqi refugees in Jordan. Mirjam A. Twigt, University of Leicester
               Migration and integration : technologies on the refugee route to Europe. Gita Zadnikar,        Alma Mater Europaea, Ljubljana
Vectors of Europe: Boats, The Mediterranean Sea and Politics of Movement. Mahmoud Keshavarz and Eric Snodgrass, Malmö University
C (Glocal Classroom, NIC0502, 5th floor) Workshop. (chair: Ronald Stade, Malmö University)
Politically Correct: The History of a Fighting Concept. Ronald Stade
Creative Intelligence and the Cold War: US Military Investments in Undisciplined Thought 1945-1965. Bregje van Eekelen, Erasmus University, Rotterdam
(Optional parallel session: Medea Talk with Marju Lauristin: What will we mean by privacy in the future? Auditorium B 1 http://medea.mah.se/event/medea-talks-marju-lauristin/)


16.15 – 17.30
Transit Europe – Europe in Transition
Final panel discussion with Mirca Madianou, Garbi Schmidt and Silvio Waisboard
(Rapporteur: Jo Tacchi, RMIT Europe, Barcelona. Moderator: Oscar Hemer)
19.00
Dinner at Malmö City Hall
Image via Flickr